The days are slowly but surely being ticked off on the calendar. She's been home for nearly four months and its time to ditch the family dinners, household chores and babysitting her younger siblings. It's almost the end of summer and she has started to talk about seeing her friends, her old dorm roommates and hanging out on campus. She has her living accommodations all worked out. Now all she has to do is get through the next 3 weeks and she is home free – literally and figuratively. The funny thing is she thinks we don't know that she is anxious to start her second year at university but I am dreading it. The story of being a mom I guess.

I wonder: was I ever this anxious to get back to school? Did I hope and pray that the dog days of summer would glide by a little quicker just so I could be alone again? Yup, I'm pretty sure I felt the exact same way when I was going to school in Montreal and my parents were living, here, in London, Ontario. I was itching to get back to the big city, my friends and my independence. Not a care in the world but myself and my books: reading about politics, history, anthropology, geography and Spanish. It was all about debating and essay writing. A LOT OF essay writing.
Fast forward to 2015 and it's all about getting my daughter settled into the room in the house that she will rent with five (yes, five) other students at the
University of Ottawa.
We went on a road trip at the beginning of July to search for this year's living arrangements. We looked at dorm rooms, single rooms, and bachelor apartments. There were shared accommodations, roommates (both male and female) and room rentals that seemed more like boarding houses and less like shared homes. She settled for a room in a house with at least one roommate/friend that she met last year in residence. She has the added bonus that there are also other students that are in her program. All of the roommates will be young women. Six young women in a townhouse just a few block from main campus in downtown Ottawa.
The room is mid-size with a bed and a desk and not much else. There is a small closet that she will have to adjust to get all her clothes sorted into. It will be a challenge, that is for sure, so we have to consider some 'Student Life Hack' ideas that will help her maximize her minimal space. I love this list (above) from Canadian Tire that has all the items covered for her room. No question about it, she will need an area rug, a book shelf, closet organizers, and under the bed storage containers (right).
I have to tell you I am loving Canadian Tire these days. Its not just for daddy's car anymore. Canadian Tire has some great ideas on how a student can maximize their own space to make it work. It's a store that has storage solutions, shelving as well as home decor. Nothing is over prices and you can find it all in one store. We are considering a few items to make more space in her room like this awesome rolling rack with a hanging sweater and shoe organizers (left).
I also know that you can buy baskets to fit into those sweater organizers to create drawers for socks, scarves and other accessories. That will be very helpful as she has a limited amount of space in her room.
I also think its important to get ultra thin hangers that will let you hang more clothes. Canadian Tire carries some of my favourites: the NeatFreak Flocked hangers in a 20 pack.
Its not just bedroom solutions that they have. There are ideas for you if you are in a dorm or in an apartment with a living room area, kitchen and bedroom.
Students can be very creative so be sure and drop by the 'Student Life Hack' tab on their Destination Back to Campus Website and see what ingenious ideas people have.
---
Student Life Hack Ideas Contest
Enter the Canadian Tire #StudentLife Hack Contest!
HAVE A STUDENT LIFE HACK IDEA?
ENTER NOW TO WIN!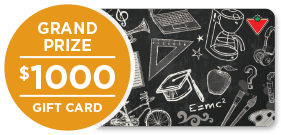 Inspire other Canadian students and enter for a
chance to win daily prizes of $100 gift cards, and
a grand prize of a $1000 gift card by sharing a
photo or video on Twitter, Instagram or YouTube
with @CanadianTire and #StudentLife
Click here for Rules & Regulations.
Contest is open to Canadian residents 18 +, excluding the province of Quebec
The Contest begins at 12:00 a.m. Eastern Standard Time ("EST") on Monday, August 17, 2015 and ends at 5:00 p.m. EST on Friday, September 4, 2015
Good luck!
Join me for the Canadian Tire Back to Campus Twitter Party on Wednesday night. We are going to discuss back-to-school ideas for your college or university-bound student.
Destination Back to Campus Twitter Party
Date: Wednesday, August 19th, 2015
Time: 8:00pm-9:00pn pm ET
Host @CanadianTire
Hashtag: #StudentLife
You can also follow the Twitter Party using Twubs!
$2,000 in prizing
No RSVP
---
Disclosure: This is a sponsored post for the Back to Campus campaign for Canadian Tire. I am happy to write about things that matter to me and you will often find topics about University life on my blog. All opinions are my own or of my University- bound daughter.