To say there is a plethora of must-see museums on Route 66 between Chicago and Pontiac, Illinois is an understatement. From the world-renowned Art Institute of Chicago to the eclectic Route 66 Hall of Fame and Museum in Pontiac, you will see stunning art, a creepy prison and the craziest bus that inspired a movie. You will also see many references to The Blues Brothers and even better, a peak at the Americana of yesteryear on the First Hundred Miles of museums on Route 66. Fun fact: In the classic novel, The Grapes of Wrath, John Steinbeck christened Route 66 the Mother Road, and it has carried that moniker ever since.
Art Institute of Chicago
Before you start your trip on the Mother Road, pay a visit to the mother of all art museums: The Art Institute of Chicago. Conveniently located near the historic starting point of Route 66, this world-renowned museum has a large permanent collection featuring such significant works as Edward Hooper's 'Nighthawks', Grant Wood's 'American Gothic' and Georges Seurat's masterpiece 'A Sunday Afternoon on the Island of La Grande Jatte'. You will find the 'Begin' sign or Route 66 near the AIC at Jackson Blvd. and Michigan Ave. in downtown Chicago
Museum Campus
Downtown Chicago is full of great museums so it seems a shame to only talk about one so we will narrow it down to an area called Museum Campus. Here you will find the Field Museum of Natural History, The Shedd Aquarium, and The Alder Planetarium. Opened in 1921, the Field Museum is a major hub for research, educational and cultural programming, and environmental work.
Want to come face-to-face with the world's largest tyrannosaurus rex? Plan a visit to the Field Museum where you can see the legendary dinosaur known as "Sue". Kids of all ages will cherish a chance to experience The Field's stunning life-sized natural history exhibits and explore a revolving selection of special exhibits.
Joliet Area Historical Museum
Keep an eye out for these Instagram-worthy Route 66 shields along the road. Get up close and personal with artifacts from the Mother Road at The Joliet Area Historical Museum and Route 66 Welcome Center! Located in a historic building that once housed the Ottawa Street Episcopal Methodist Church, a grand example of Neoclassical architecture, this building now hosts a plethora of themed selfie spots and exhibits dedicated to the significance of both Route 66 and The Lincoln Highway.
Joliet Area Historical Museum – 2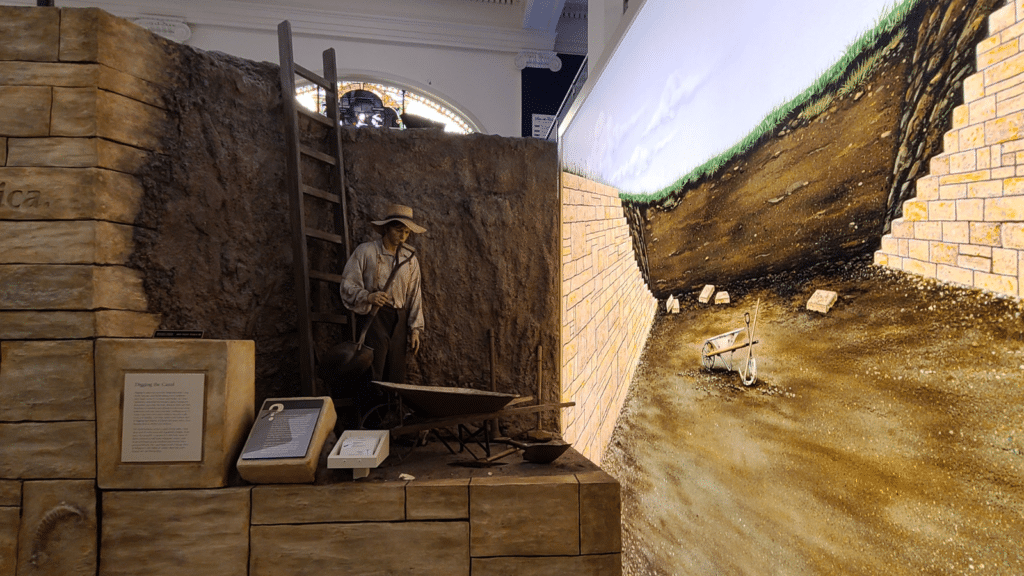 Explore the museum's exhibit of movie-worn suits from The Blues Brothers, the seminal comedy that was filmed in Joliet. You'll also find other photo-worthy exhibits like a replica I&M Canal lock, a turn-of-the-century streetscape, and an Old Joliet Prison guard tower.
Old Joliet Prison
The Old Joliet Prison, which boasts one of the most famous building exteriors along Route 66, has been featured in numerous television shows and films – including the opening scene of the cult classic comedy 'The Blues Brothers' and in the first season of Fox's hit show 'Prison Break'. This former penitentiary continues to attract road trippers, photographers and true crime enthusiasts, year after year.
Old Joliet Prison – 2
During its days as an active prison, between 1858 – 2002, the Old Joliet Prison housed such infamous inmates as John Wayne Gacy, James Earl Ray and Babyface Nelson, to name a few. Now, the Joliet Area Historical Museum offers a variety of regular tours where you can snap photos, explore the building's storied history or join in a paranormal investigation.
Illinois Rock and Roll Museum on Route 66
Route 66 will soon be graced with a brand new historical attraction: The Illinois Rock and Roll Museum on Route 66. Dedicated to preserving the history of musicians and bands with deep roots in Illinois. The recently opened museum has already inducted two classes into their Hall of Fame. These icons include classic rock bands and legendary musicians as Chicago, Cheap Trick, Muddy Waters, REO Speedwagon, Ides of March and blues legend Buddy Guy, to name a few. New inductees will be honoured this fall.
Illinois Rock and Roll Museum on Route 66 – 2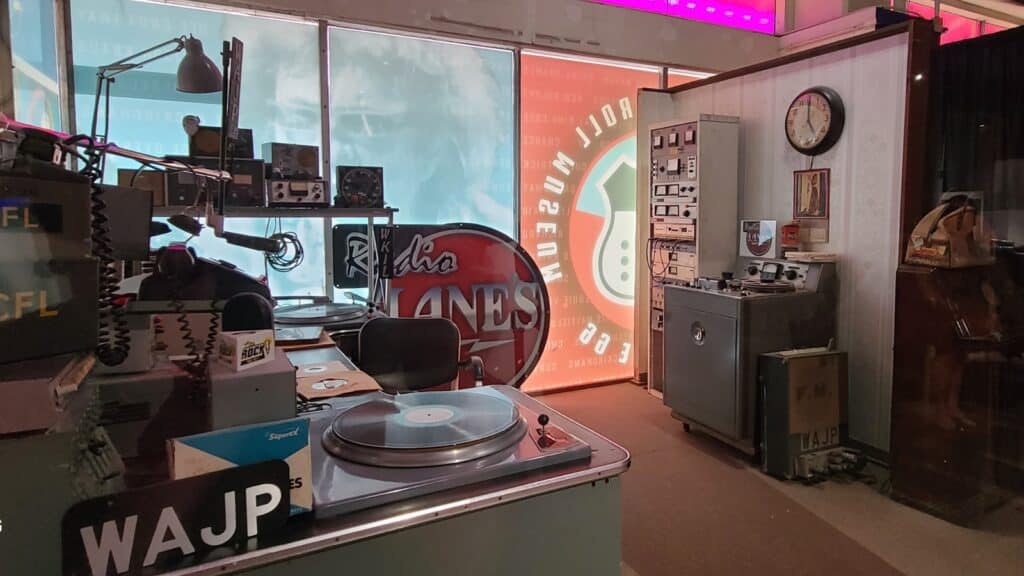 One of the best exhibits is the Radio Lane's studio. A throwback to the beginning of rock and roll radio stations. There is a recording studio just off of the performance stage and features interactive and educational exhibits, an instrument lending library and so much more.
Route 66 Association of Illinois Hall of Fame and Museum
At the end of your First Hundred Miles road trip, you'll find yourself in the picturesque community of Pontiac. Arguably the best museum about Route 66, the Route 66 Association of Illinois Hall of Fame and Museum has an expansive archive of Route 66 artifacts and memorabilia. From a wall of license plates to rooms filled with military uniforms, Bob Waldmire's map art to quirky kid's toys – there is a lot to see here!
Route 66 Association of Illinois Hall of Fame and Museum
A highlight was Bob Waldmire's school bus and the VW microvan which was said to inspire the Fillmore character on Disney's hit film 'Cars'. Both traveled this iconic route for years. The spectacular two-story tall mural of a Route 66 shield is perfect for photo-ops. This is a can't-miss location for travellers spending any time along The First Hundred Miles.
Pontiac-Oakland Auto Museum
Visitors are astonished at the quality of the cars on display and the extent of the collection at the Pontiac-Oakland Auto Museum. You'll need about an hour to tour the vast collection of vintage cars, memorabilia and the Pontiac Research Library housed in this sprawling downtown museum, located just a short walk away from the Route 66 Association of Illinois Museum.
Pontiac-Oakland Auto Museum
Admission is free, however, you can opt for a behind-the-scenes tour for just $5 a person. This special tour will give you the inside scoop on the history of these astounding automobiles and stories from knowledgeable guides. Open every day, the auto enthusiast won't want to miss a chance to see this fine collection.
Murals on Main Street
Stroll through downtown Pontiac and enjoy Murals on Main Street, the unique collection of over 25 outdoor murals in and around the downtown district (including a large Bob Waldmire commemorative mural). The most impressive are those representing Main Street in mid-century America with the gas station and soda shop.
More stops along the way – Beloit, WI
When a small town gets support from a woman billionaire things start to look amazing – Visit Beloit, Wisconsin
Other amazing destinations in the USA
The original inhabitants of the land want to show you what they have to offer and it is A LOT. Check out Indigenous Tourism in the Olympic Peninsula in Washington State.
Margarita Ibbott is a travel and lifestyle blogger. She blogs about travel in Canada, the United States and Europe giving practical advice through restaurant, hotel and attraction reviews. She writes for DownshiftingPRO.com and other online media outlets.