So you think the holiday season is a bad time for organizing your house…Think again.
This is the perfect time to

re-think

, reject and rejoice.
When it is time to take out the holiday decorations, trim the tree and deck the halls take the time to

re-think

what you want to keep and what you want to let go. When you are taking things down from the mantle to make room for your holiday garland, this is the perfect opportunity to let go of the vase that came with that beautiful flower arrangement that your mother sent for your 40th Birthday. Or maybe it is time to update the pictures in the grouping of frames that sits on your living room side table.
As you put items away or decide to de-vest yourself of them,

re-think

about what you will place there once the season is over. For a change of pace, maybe it is the lovely silver pitcher that you keep in the hutch. Or maybe it is the retro candle holder that you loved and decided to finally buy, wrap up and place under the tree with a tag that reads "from your Secret Santa". So before you store it away decide if you really want to keep it or if the item needs a new home somewhere else. Like I always say, "maybe it needs a home in someone else's home or maybe (silent pause)… you just need to LET IT GO."
You open your specially labeled holiday storage boxes with your orna
ments, garlands and sentimental trinkets –
BUT

WAIT

– Could this be another opportunity for you to re-think what you have? Of course it is! So use this time to organize and lay out all of your decorations. Take the time to throw away any items that are chipped, damaged or missing key pieces.

Re-think

whether it is time to ditch the 'cozy country Christmas theme' and embrace the 'sparkly, glam holiday theme'.
Let go of the tasks that you hate or the traditions that you just cannot seem to embrace. Reject the idea that you have to do it all – all by yourself!!! I often say in my Holiday 101 seminar: "Buy your time… you are worth it". What does that mean? It means that you DON'T have to do it all. There are plenty of ways to make the season enjoyable if you let others give you something valuable: time.
Buying time means that there are wonderful people that love to bake so find yourself a cookie exchange and bring that one sure-fire batch of cookies that you can make and get the rest of the really good stuff from someone else! Get a babysitter to take care of the kids while you decorate, bake, wrap presents or go shopping in the evening. Hire a neighbourhood kid to shovel the snow. Order a flower arrangement for yourself and then another one for your boss or your spouse's boss. That would be two tasks completed off your list.
Reject the idea that everyone needs to receive a holiday greeting card from you. Be environmentally-friendly this year, send a lively email with cool electronic stationary and donate what the total cost would have been for postage, paper, cards and your time to the local food bank, families in need or a local crisis center. Or better yet the #MiracleMoms campaign (through the Miracle Children's Network and the London Children's Hospital at London Health Sciences Centre).
REJOICE!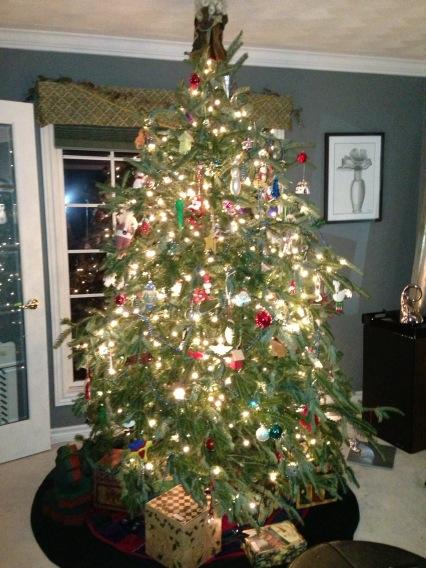 Rejoice in what you have. Your family, your health, your friends, your life. Rejoice and relax with friends and family because after Christmas I am going to get you to get up and get organized before the start of the new year…

Side Note: Join #LinkedMoms on Twitter on Wednesday, December 19th at 8pm on Twitter as we discuss the Holiday Season and what you can do to keep your stress level down in the next few days
Margarita Ibbott is a travel and lifestyle blogger. She blogs about travel in Canada, the United States and Europe giving practical advice through restaurant, hotel and attraction reviews. She writes for DownshiftingPRO.com and other online media outlets.