Best Vintage and Thrift Shops in Kensington Market
I love to spend the day in Toronto. You can never go wrong walking around Queen Street, Bloor West Village or Liberty Village. Recently I had the opportunity to walk around Kensington Market (just West of Chinatown) and have a look at the best vintage and thrift stores in Toronto. There are many to chose from and they carry everything from high-end goods (luxury shoes, purses, name brand clothing) to thrift store finds that have seen better days but are looking for a new home.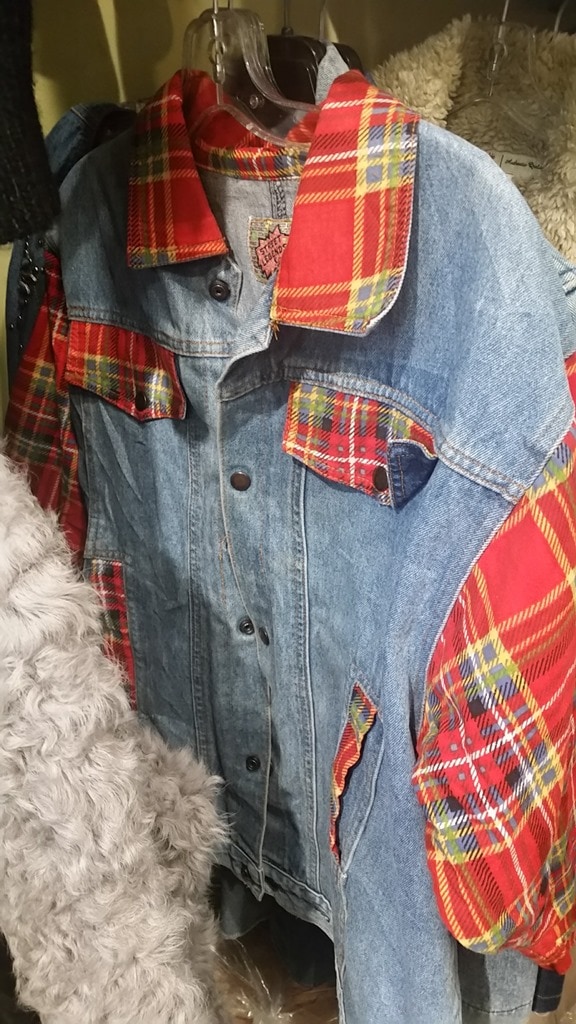 Kensington Market is also a great place to catch a quick bite to eat. It has an eclectic selection of fast-food eateries (tacos, empanadas, crepes, burgers and fried chicken) to wonderfully decadent pies and cakes. I had a hot chocolate and carrot cake at Wanda's Pie in the Sky but most people go for the pie. If you have a full day to spend in Kensington Market park your car at the public parking lot (because at $8 max for the day, you can't go wrong) and just walk around. Be sure and look into alleys for murals as you will find some pretty eclectic street art. Even some of the front yards are picture perfect though not necessarily perfectly neat.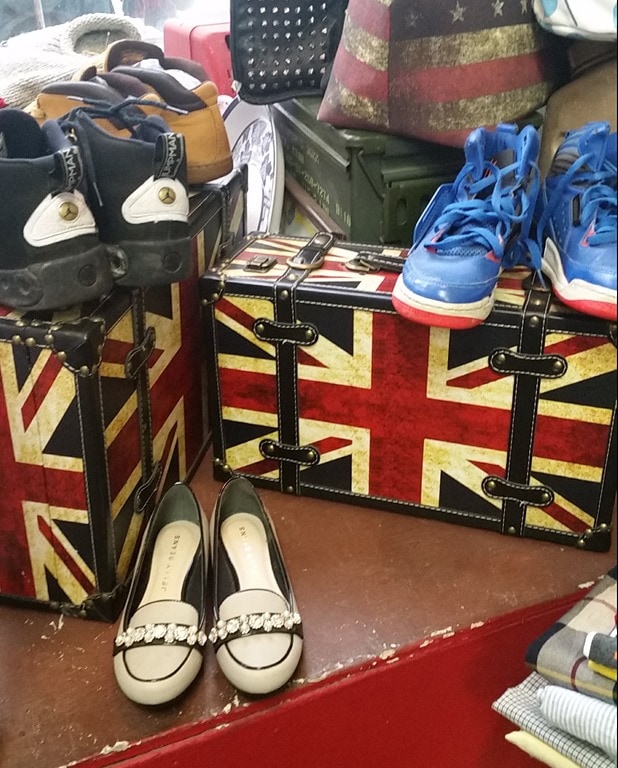 I have always loved going into vintage stores. In Montreal, you would be able to find just about anything. As I travel with my eldest daughter to Barcelona and Paris, we sought out stores to try and get truly unique finds. She is always able to find something of interest. I have to admit, I enjoy these scavenger hunts for finds. Many of these stores carry, not only clothing, but tchotchkes, books, memorabilia, postcards. Everyone has a variety of wares that they peddle. I tend to find great shoes. So you can imagine my delight when I found Courage. I have linked to the Instagram accounts from each of the stores because what they all are are visual stories of great stores. Head to the following Vintage shops: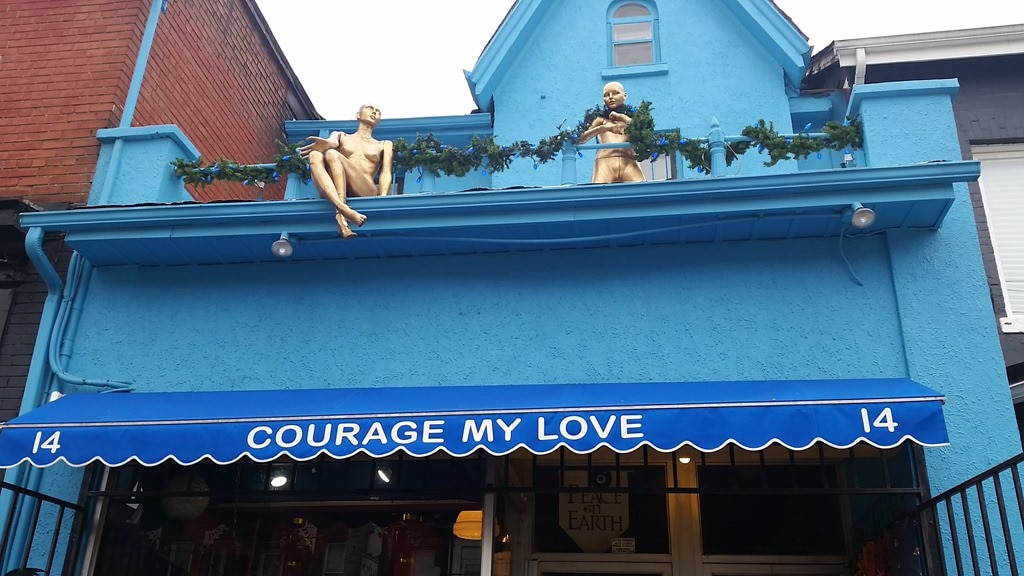 Courage My Love
This is the granddaddy of vintage stores in Kensington. It is the oldest as it was opened in 1975. The owner had a great story about the history of the store, vintage stores and Kensington Market in general. You can read the history here. I have returned time and again to this store because the owners travel the world to stock items exclusively for this shop. You will find clothing, shoes and purses but they also have a way of re-purposing items. I was in during the summer and they had these fabulous tops made from large square silk scarves. No top was the same and they came in all sorts of sizes. This go around, I found they have tie-dyed cashmere sweaters. They came in every possible colour and combination. Below is the owner's daughter and co-owner, Cece, modelling one.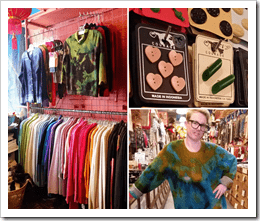 If you are looking for vintage purses from Mexico (a very distinct style), you can find may at Courage my Love. The other notable items are buttons (which they now reproduce from vintage buttons) and cowboy boots. You will find a fantastic selection of cowboy boots displayed at outside. [tweetthis]Check out the Best Vintage and Thrifts Stores in Toronto's Kensington Market #thesix #Toronto [/tweetthis]
Bungalow
This has to be one of my favourites but it is also one of the most expensive in the area. This is a great store to find high end bags (they have plenty of leather Coach bags). I love this store as I found this awesome Louis Vuitton bag here years ago and have since found out it was a limited edition bag from the early 2000s. They have a very disserting eye for teak furniture including desks, chairs and sofas. There is always a variety to choose from so be sure and return often. I drop in every time I'm in Kensington Market. They also carry a lot of teak and interesting bar ware as well. It's also on your way to Wanda's Pie in the Sky if you were looking for a sweet treat.
Vintage Depot
With four locations in Toronto and the GTA, the Vintage Depot has a good collection of sports wear and vintage t-shirts. They had a huge selection of concert t-shirts. You will also find a small selection of shoes in the Kensington location but you'll have better luck in the other locations as they are larger!
King of Kensington
This store is owned by the same people as Flashback and Flashback2 (see below). Whether the TV show came first or the Vintage store, I'm not really sure. Some of the most interesting things I found were classic hockey sweaters and thick cardigans. For the male shopper, this is the place to be, as they have a great selection of clothing for the guys.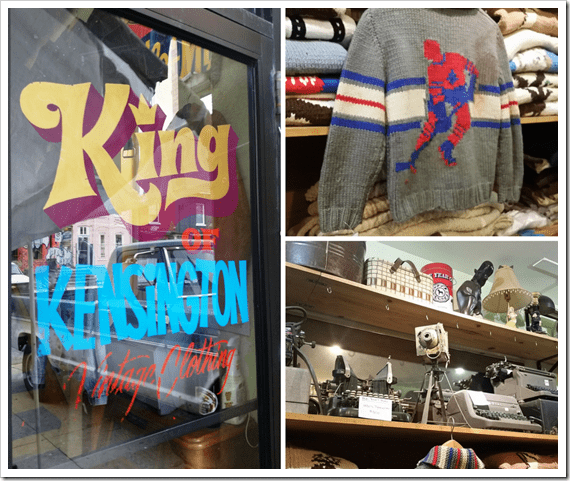 There are two sister stores located closely together. Flashback had a selection of interesting items and not just clothing. Down the street at Flashback 2 there was a great selection of winter coats including fur and vintage Hudson Bay Company coats. For the vintage denim lover, this is the jackpot as they have TONS of denim pants, jackets and more. You can also find interesting custom jewellery. If you are looking for old style cameras and typewriters, go no further. Take your time in this store, there is so much to see that it can be overwhelming. If you are looking for something in particular, be sure and ask the staff, they will likely know if they have it or the other store or King of Kensington (as all are sister-stores).
Sub-Rosa Vintage
Known for their handpicked selection of unique vintage items, Sub-Rosa is the perfect spot of any trend seekers or vintage fashion connoisseurs. The staff and owner are very sweet and helpful and their Instagram page is perfect for if you need any outfit inspiration. They've got great wearable pieces for men and women that are worth a look into this top voted vintage shop.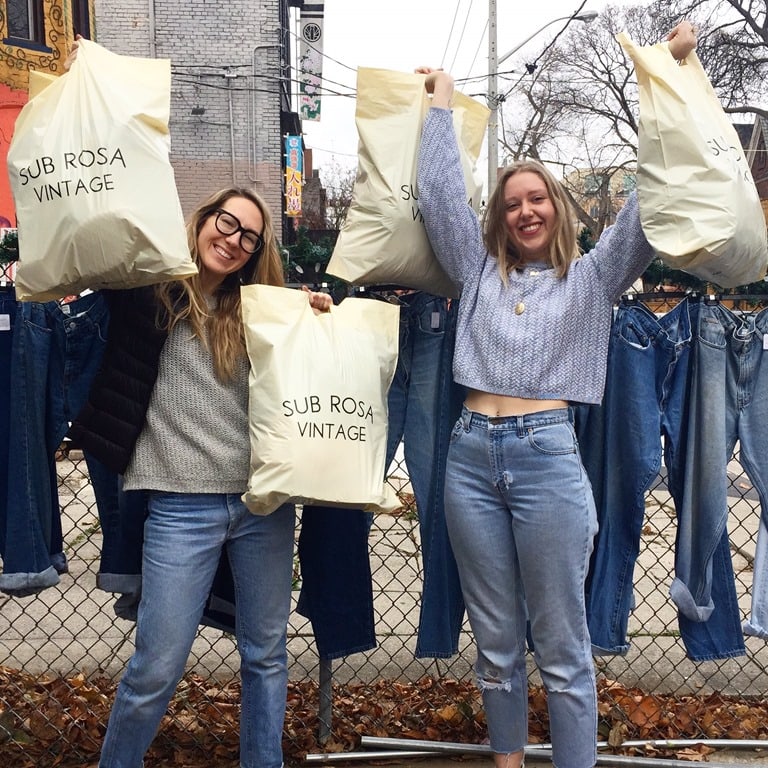 Technically, this is a cocktail and bar tools emporium, however, it has an area where you can find vintage barware. If you are looking for the perfect highball glass, champagne flute or perhaps a classic 1950 shaker, this is the place you want to go to. You can also find the largest collection of Japanese bar tools! They do a large amount of business on-line because the catalogue of items is so extensive. In store, you will find bitters, tonics, syrups, a dash of this a splash of that. If you are a hipster, you have to see their Tiki Bar accessories because it was just so extra! The first time I was here, they had only been opened less than a week. There are two locations: one in Kensington Market and the other BYOB Cocktail Emporium is on Queen Street West.
Not a vintage store but still in Kensington Market, this paper and stationary store is worth a stop. You can find prints, agendas and interesting cards. I also picked up a few free bookmarks made from castoff prints. If you are looking for pens and stamps for journaling you will find a good selection here.
Pin it for Later
There are many more stores I did not cover but I intend on going back in the late spring and update this post.  Every fall and spring you can look out for best vintage and thrift stores during the Vintage Crawl in Toronto. This event lets you shoppe in the evening and many have extra discounts.  I'm told the next one will be in June.  Keep an eye out on their FB page. 
Do you have any favourite spots for vintage or thrift shopping?
Margarita Ibbott is a travel and lifestyle blogger. She blogs about travel in Canada, the United States and Europe giving practical advice through restaurant, hotel and attraction reviews. She writes for DownshiftingPRO.com and other online media outlets.