After our awesome trip to Vancouver, Washington, and Olympic and Kitsap Peninsulas, l headed east to find out where are the Tri-Cities in Washington State. Comprising of the cities of Pasco, Kennewick, and Richland (and West Richland), you will fall in love with this area after crossing the Cascade mountains through Snoqualmie Pass on l-90. It is a stunning contradiction from snow mountain peaks to rolling hills into the Yakima Valley. The drive alone from Seattle is worth a few stops along the way!
With an average of 300 days of sunshine, a median high of 27°C (81°F), and more than 200 wineries within an 80 km (50-mile) radius you won't want to miss this best-kept secret in Washington State. The Tri-Cities can be the perfect girl's getaway, couples romantic retreat or family fun destination, there is much to see and do in the Tri-Cities in southeastern Washington State!
Where are the Tri-Cities in Washington State?
You would have been hardpressed to know much about this area as it was a well-kept secret. Home of the Hanford site of the Manhattan Project, Richland was considered a secret city during WWII as it was a confidential nuclear testing site. Located in the middle of a desert, far from prying eyes, its strategic location beside the Columbia River provided the water needed to cool the nuclear reactors and easy access to the Pacific.
This legacy has provided the perfect location for STEM tourism. Encouraging the study of science, technology, engineering and math seems like an unlikely focus on tourism but the Tri-Cities area makes in easy to get your 'geek on'. There are multiple activities for your youngsters (and the geeky nerds in us all) in this part of Washington state.
STEM Tourism Options
LIGO Hanford Observatory & Exploration Center (LXeC)
Did you know the Tri-Cities Washington area considers itself a STEM tourism destination? There are so many science-technology-engineering-math-themed activities to take in. Besides the Manhattan Project National Historic Park, there is the Laser Interferometer Gravitational-wave Observatory (LIGO) and Exploration Center (LExC).
LIGO Hanford Observatory is home to one of only two gravitational wave detectors in the country. LIGO first detected gravitational waves in 2015, which confirmed aspects of Einstein's theory of relativity. Since 2015, there have been over 50 confirmed detections including collisions of black holes and neutron stars.
Visiting the recently completed LIGO Exploration Center help students and teachers from K-12 learm more about STEM. Ultimately, the center will house 50 hands-on/interactive exhibits related to LIGO science and engineering. It is the largest hands-on science center in the region!
Manhattan Project National Historic Park
You can take a tour of B Reactor National Historic Landmark, the world's first large-scale nuclear reactor in the Manhattan Project National Historical Park. Nuclear reactors at Hanford (now the Hanford Site) produced plutonium for the Manhattan Project to fuel the first atomic test.
Free of charge and open to all ages and visitors from around the world, you can see what science was like in the 1940s.
Reach Museum
With programing focused on young explorers of science and technology, you may want to drop by the REACH Museum in Richland. Learn more about Ice Age Floods, Mid-Columbia River Basin history, and the Hanford Reach National Monument. Take a stroll outside by the river on The Columbia Park Trail.
Gastro Tourism – Wine Tasting and Food Trucks
Kennewick – Historic Waterfront District
Kennewick is the Tri-Cities' largest community with a population of over 74,000 and covering over 25 square miles. Focusing on tourism the developments in Kennewick's Historic Waterfront District includes Clover Island and the Columbia Gardens Urban Wine & Artisan Village. The Port of Kennewick, City of Kennewick, and Benton County are partnering to create a vibrant destination neighborhood with a pedestrian-friendly waterfront where visitors can stroll between tasting rooms, food trucks, craft breweries, restaurants, and boutique shops while enjoying outdoor concerts, public art, and wildlife along a scenic nature trail.
During our TBEX conference, we were able to spend an evening at Columbia Gardens Urban Wine & Artisan Village. There was live music and we were able to indulge in delectable treats from local food trucks. This is a great place for wine tasting and food truck delights.
The macaroni and cheese from Swampy's BBQ won high praise among the attendees (personally, I want to go back for the trough parfait) but the desserts from Ann's Best Creole and Soul Food were the bomb. I'm disappointed I did not take a picture of the delicious chocolate mousse before I gobbled it all up!
We tasted wines in each of the three tasting rooms: Gordon Estates, Monarcha, and Bartholomew. We also ran into the owners of Purple Star and Muret-Gaston who will be joining Columbia Gardens in June.
Women of Washington Wine
Insider's Tip: On one of our pre-conference tours, we had a wonderful visit with Katie Gordon of Gordon Estates and Amy Johnson of Muret-Gaston + Purple Star of Wome of Washington Wine. These women along with Shae Frichette from Frishette Winery and Jessica Munnell, winemaker at Wautomas Springs hosted us for a "Tapas and Wine" event.
As a daughter of a former Chef, I truly enjoy a well-thought-out menu, and the tapas food pairings provided by Chef Rachel Mercer of Wautoma Springs were exceptional. If you get a chance, do drop by her bistro – I highly recommend it!
Heart of Washington Wine Country Pass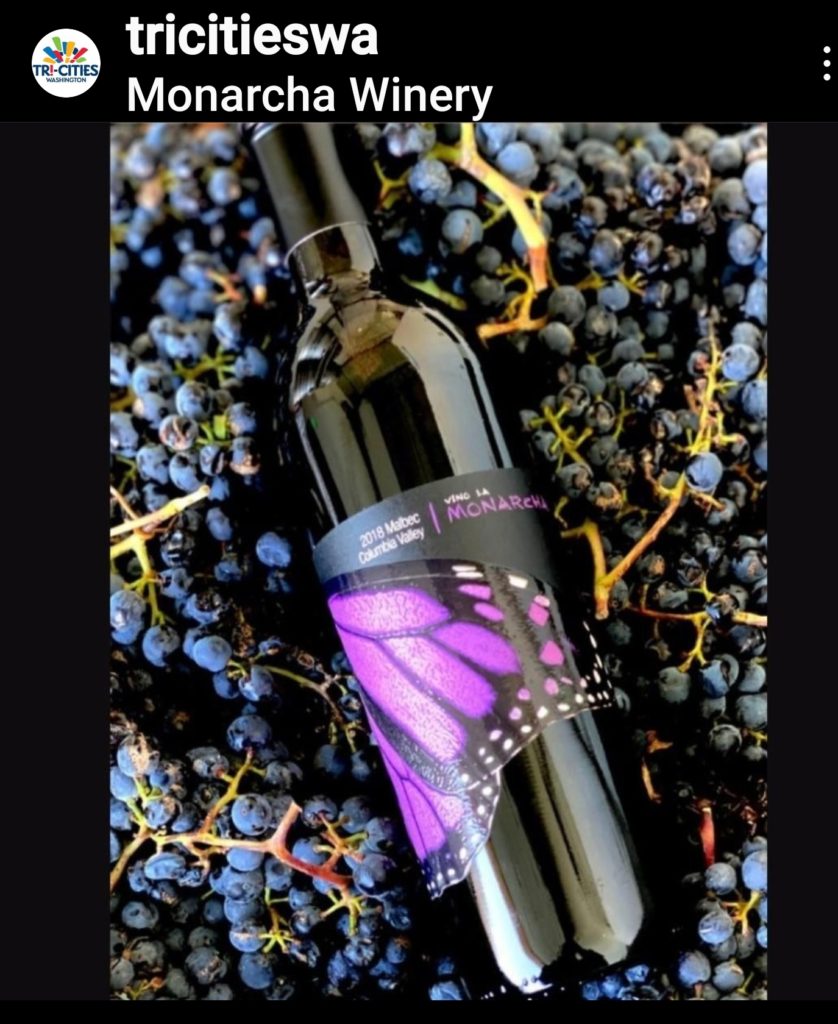 Farmer's Markets & Mercados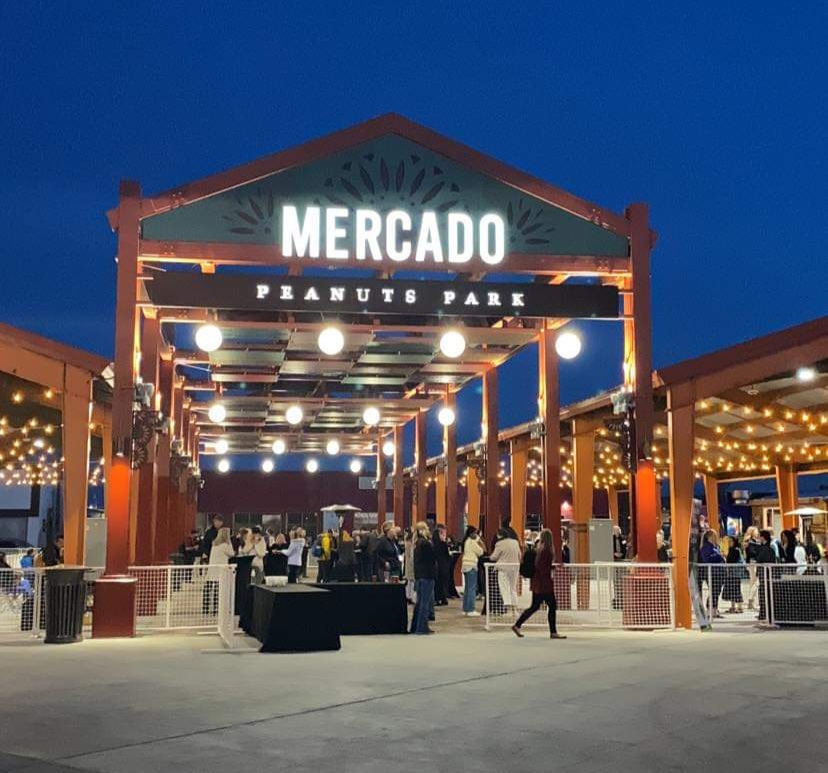 A thriving sports-focused community of 61,000, Pasco's humble beginning started in 1805, when explorers, Lewis and Clark camped at the confluence of the Columbia and Snake rivers. History, diversity, and sports are the main attractions including sporting a Minor League Baseball team (Go Dust Devils!),
We were pleased to inaugurate the Mercado Peanut Park in Pasco, Washington. A large outdoor covered market area perfect for live music, entertainment, and farmers' markets. We had our share of authentic Hispanic food and a dance demonstration by traditional Mexican dancers as well as high-energy dance moves from the Pasco High School Dance Team. We didn't know at the time we were in the presence of celebrities, but the dance team will be featured on the upcoming season of America's Got Talent.
Adventure Tourism
Bergstrom Air – Scenic Flyby
If you'd like a better view of the area (and the Hanford site), you can take a Bergstrom scenic flight. On a sunny day, you can see for miles and miles. On our 30-minute flight, I loved seeing the beautiful vineyards and farmland from above but more impressive were the Cascade Mountains in the distance.
While at the airfield, be sure and stop by the Pasco Aviation Museum and see where the start of United Airlines began as an airmail service in 1926. There are small exhibits about the role of women in the aviation industry in the Tri-cities area during WWII. They continue to build and expand so have a seat and watch a bit of Top Gun for the fun of it!
Water Activities
The Tri-Cities in Washington State The Tri-Cities are three closely linked cities at the confluence of the Yakima, Snake, and Columbia Rivers in the Columbia Basin of Eastern Washington. This ideal location and 300 days of sunshine create plenty of opportunities for water activities.
Lunch or dinner cruises with Water2Wine cruises
Paddle Boarding
Kayaking
Boating and Fishing
One of the most exciting are the Tri-Cities Water Follies – annual unlimited hydroplane racing and air shows including the Columbia Cup, held on the Columbia River in July.
Through a unique propulsion system, the boats skip along the water only briefly making contact at speeds up to 350 km/h (220 mph).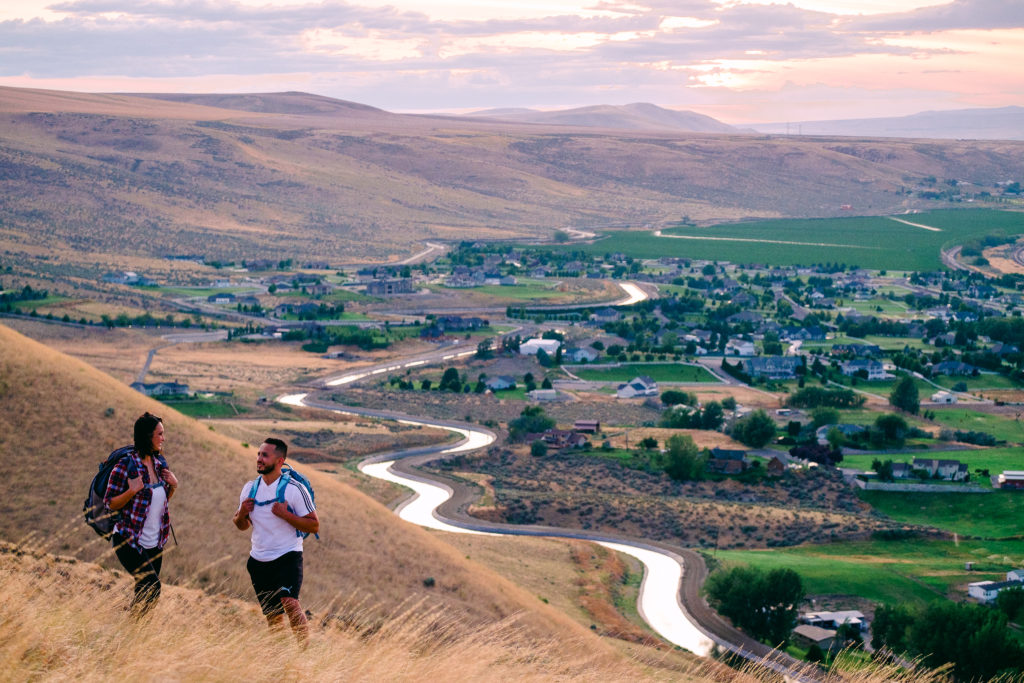 Margarita Ibbott is a travel and lifestyle blogger. She blogs about travel in Canada, the United States and Europe giving practical advice through restaurant, hotel and attraction reviews. She writes for DownshiftingPRO.com and other online media outlets.