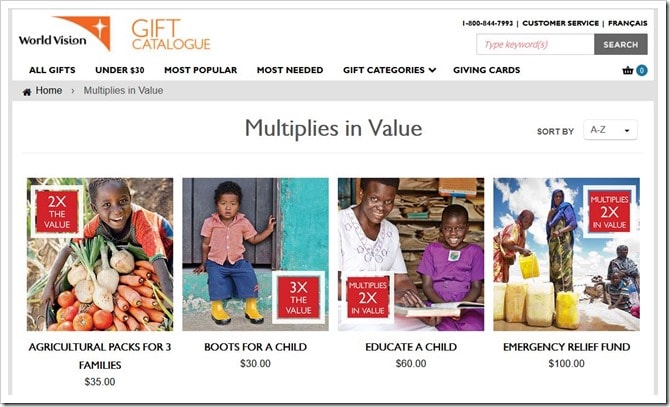 We are almost done.  The craziness that is Halloween is almost past and I can hardly wait.  I have to admit, it is not one of my favourite holidays.  I'm not one to dress up or make hay about all things spooky, scary and ghostly.  Let the Christmas season begin…
For me, the end of Halloween means that it's time to start to plan for holiday gift giving and thinking about what I want to received for Christmas.  Yes, what I want to received for Christmas.  So often we do think only about what our children want and what we will get the in-laws, our friends, our co-workers.  The list seems endless sometimes.  Yet, it is a time to reflect on what you want from your life.  Stay with me here…
Like all mothers we want to have happy, healthy children.  We want our spouse to be happy.  We want to share a nice meal and a glass of wine with friends.  We want a roof over our heads and a means to send our kids to school.  As you may know, I have a daughter in university and that is what I want for her.  A good education, keeping safe and a hot meal.  Those are the kinds of gifts that we take for granted.  We often think that we need to shower our children with toys, clothes and entertainment just so they are happy.
I have always asked my children to consider others. In the past we have done a $100 challenge where we gave them that amount of money and asked them to collect what they needed so that it could be donated to their local charity of choice.  It was a fun, yet educational way of considering what others may need during this holiday season.  It's the true meaning of Christmas, isn't it?  Last year, we took a different approach and decided that we wanted to support World Vision Canada.  As a family we sat down and read through the World Vision Gift Catalogue.  Taking into consideration what would make each of my family members happy and how each of their special interest could easily be reflected in the choices that we made, I went ahead and gifted each one an item.
All of these gifts were given with the consideration of what, we felt as a family, would be items that were needed by other families around the world.  I took the time to consider giving meaningful gifts to my family.  They did not miss the clothing, game or toy that they would have received otherwise.  They also know that this was not a sacrifice for them.  They understood clearly that being able to gift a child an education, food and play is what they can do from right here in Canada.  This does not diminish their commitments to help in other ways but it does give them the time to give their input into changing (or helping) the life of another child, another teenager, another mother, another father, another community.
As I review the World Vision Gift Catalogue for meaningful gifts this year I know that there will be a few items that I will include:
Helping Refugees from the Syrian Crisis
Along with many other NGOs, World Vision has been on the ground helping in the Syrian Crisis.  I know that my donation of $50 will be matched by the Canadian Government until December 31, 2015.  That means that my donation will double to $100.  I love the idea that the Government of Canada and other private companies and organizations partner with World Vision Canada to make gifts multiply.  That is one of the main reasons that we choose certain gifts last year.   For example the Medicine for Children donation of $30 was matched nine times.  This mean that my $30 donation became a $270 donation in the end.
To that effect, I will also be donating  textbooks for children this year.  I am a strong believer in education for children and girls in particular so this gift will be one of storybooks, textbooks, school support and more.  That gift will also multiply 4 times.
My last gift to my family will be the gift of family.  Feeding Hungry Children and Families for 30 Days is a gift that helps families hurt by natural disasters and humanitarian crises.  If you think about it, there is not a year that goes by that there is not an earthquake, hurricane or tropical storm, mudslide or forest fire.  Many of these emergency require help immediately.  Knowing that the World Food Programme will multiply my donation three times lets me know that I have helped with more than just my $45 donation.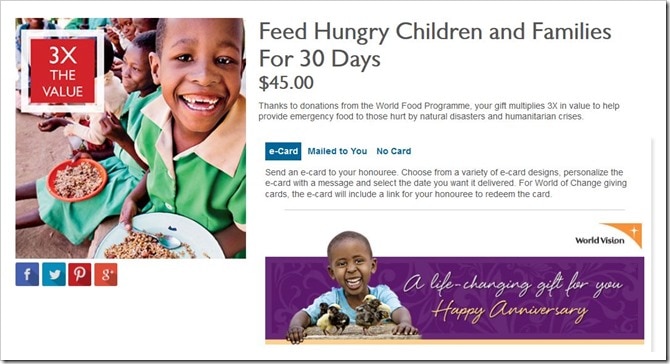 I am happy with the meaningful gifts that I have given my family this year.  They will certainly help other families in places I will never be able to reach.  I know that World Vision Canada is a first rate organization that works to help those in need.  I have supported them before and I will continue to support their vision of a healthy, safe world for all families.
Do you want to learn more about what great programs World Vision Canada has?  Join me and LinkedMoms on Wednesday, November 18th for a #MeaningfulGifts twitter party hosted by @WorldVisionCA and @LinkedMoms.  We will be rolling out more details in the next week.
This year I encourage you strongly to consider the gift of education, shelter, food, safety or play.  World Vision has been around for over 50 years and helps out in countries all over the world (like my country of birth, Colombia).  If you want to read first hand how a blogger friend of mine saw the impact of World Vision in Colombia, I suggest you read these post* by Paula Schuck (@inkscrblr).
---
* You can read Paula's phenomenal posts below:
Part 1: The Briefing
Part 2: Where Hope Lives
Part 3: What a Soccer Ball Looks Like
Part 4: When I Sponsor a Child with World Vision Canada
Part 5: Two Hands Are Enough
---
Disclosure:  I am a World Vision Canada Mom working with Thrifty Mom Media to tell this story, and as such I am compensated.  My opinions is all my own.
---
Margarita Ibbott is a travel and lifestyle blogger. She blogs about travel in Canada, the United States and Europe giving practical advice through restaurant, hotel and attraction reviews. She writes for DownshiftingPRO.com and other online media outlets.