It was challenging… invigorating… terrifying. Deep down, though, I love being coaxed into doing something out of my comfort zone. There are many reasons I travel, but one of the main reasons is to try things I would not otherwise try. Peer pressure is a real thing when you are adulting. It's the perfect opportunity to do something that SCARES you.
In the last few years, I've paddled in a sea kayak on the choppy Saguenay river, speedily segwayed through the colonial city of San Augustine, sailed on a catamaran on the Gulf Intercoastal waterway and downhill skied on massive mountains in Vermont for the first time in 25 years.
I am not flying out of aeroplanes or scaling mountains (though in my mind's eye, I feel I could *sarcasm*). I am not trekking tropical forests or diving with sharks or eating insects, but in my own particular, comfortable 50+ world, I continue to do things that make me say: what the heck was I thinking?
Update 2023 -Do something that scares you
My love of the US Gulf Coast began with my first visit to Gulf Shores and Orange beach and I have never looked back. I have come to love and appreciate 'soft' adventure travel. Before you come at me, there is nothing wrong about enjoying a little advenure without feeling you are about to die. If you suffer from any form of anxiety, you know baby steps are important.
Here is a variety of adventures that I took in Louisiana, Mississip and Alabama. My most recent trip to Louisiana (Lafayetter and New Orleans) provided the opportunity for swamp tours. There were plenty of unique things to do that didn't involve advneture travel but these were the really fun things!
Swamp Tours
On my most recent trip to Louisiana, I had the pleasure of tryingout not one but two different swamp tours. One was near Lafayette and was full of Spanish moss on cypress trees and a peaceful ride in a flat-bottom boat. It was positively magical.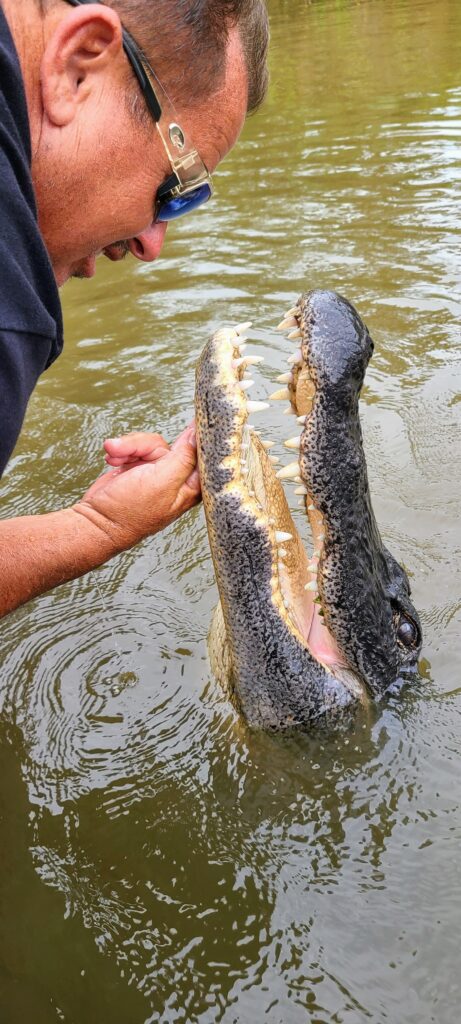 The second swamp tour was with Graylines in New Orleans and was in a fast noisy propeller boat but was so very exciting when the driver coaxed over an aligator. He had him jump out of the water right beside me. I could not have been any closer and was able to secure the 'moneyshot'. It was po – sitively invigorating – trhilling. The convenience of catching the tour right in the heart of the French Quarter made this tour a great choice.
Ziplining
The most challenging event on this recent trip to the Gulf Coast was to launch myself off a tower while being suspended in the air by a cable. I found myself climbing 423 stairs and ziplining over 6,000 feet on the Hummingbird Zipline Course in Orange Beach, Alabama. With heights of up to 115 feet up and speeds of over 30 mph (48 KM/hr). We soared over pristine bays, the Intracoastal Waterway and through a federally-protected wetland, beginning and ending just off of The Wharf's Main Street.
We were six women and guides that day and only three of us had any experience ziplining. One had tried this before and had bailed. There was a high ropes rescue involved and a lot of nerves. This made me a bit nervous because I did not know it was not just one or two passes. It was in fact, 8 passes which increased in height. The fifth and sixth passes were the steepest and the fastest. At one point in time, I came in so fast that I scared the guide who was there to slow me down.
"Maybe you'll need to brake sooner" he suggested. "Your speed could take me out at the knees or perhaps, leave me fewer options when I want to have children later on… and I do want to have children". Duly noted, my friend, duly noted.
When we came in, it was hard and fast, the toughest manoeuvre to master was slowing yourself down with your leather-clad hand without completely stopping your momentum. I did that in my last run and ended up pulling myself in hand-over-hand to the platform. Not fun… slightly scared just dangling there… in the wind.
Kayaking
I am full of vim and vigour when I need to be, but a lot of the time, I'm a big chicken. The problem is, I don't really want my kids to know that. The whole 'what are you scared of? Just do it!' said to my children, rings in my ears often. When I told her about my adventures in the US Gulf Coast, I loved when my daughter said to me, "I didn't think you'd do THAT, mom".
Why, yes, I assert, I can kayak in alligator-infested bayous in Louisiana's North Shore. To be honest, it was November and those alligators begin to brumate in cold weather. Which means they react to a cold environment by slowing their metabolic activity for the winter (did you even know alligators sort of hibernated?). It did not matter, I had conquered my fear of seeing an alligator in the water.
Once again, doing something that really scares me is kayaking. I don't really like being on any sort of boat. I'm not scared of swimming or the water, just boats. Through my travels, I have started to conquer that fear. It does not, however, mean I enjoy the 'anticipation' of going on a kayak.
In Florida, we did a lot of kayaking, but I was usually in a tandem kayak with a guide or experienced paddler. This go-around, I was on my own and filled with trepidation. There really was no reason to worry as our guide Shannon and her husband Jeff have been doing this for years.
Bayou Adventures in Lacomb, Louisiana is an outfitter shop where you can rent bicycles, stand up paddleboards and kayaks. They provide a delivery service so if you are camping in nearby Fontainebleau State Park, they will deliver the kayaks to you!
If you want to go fishing, the store has live crickets and live bait. If you are looking to catch crabs, they have bait for that too. Our three-hour paddle took us down the Caine bayou towards Ponchatrain Lake. Shannon pointed out wildlife and told us about the surrounding biosphere. It was the most peaceful paddle yet for me.
All around, she made it comfortable enough for me to want to go back. They hope to expand and provide crawfishing tours in addition to their popular sunset tours.
There were a few other activities which took me out of my comfort zone: biking, riding a segway, and dancing. Not unusual or difficult activities, but each had their challenges.
Biking
I'm not sure when the last time eas that I rode a bike. It's likely 15 or 20 years ago. Not feeling confident when we rented bikes at Beach Rental to ride the Hugh S. Branyon Back Country Trail in Gulf Shores State Park. I was happy to be back as I explored it the first time a few years ago on a Segway (my first time on one).
A little wobbly, I was a bit concerned about how to break without going over the handlebars. Yes, that is a thing when you break too fast. I was just getting the feel of the bike when we were approaching the wooden boardwalk which is part of the 15 miles of trail. I wanted to pick up speed because it was a ramp.
What I did not count on were three youngsters on scooters coming towards me. The littlest one was not aware of the rules of the road (to stay on the right side of the lane). She was quickly coming towards me and she was in my lane. I started to holler "get out of the way… get out of the way… GET OUT OF THE WAY". Her older brother yelled at her to move and thankfully she quickly followed behind. I narrowly missed taking out a small child on a scooter and I know if we had collided they would have blamed the adult.

Crash averted. Eventually, her parents meandered by on their bikes, pass me and smile. All I could think was 'you have no idea how close I came to disaster…'
Was I scared? Absolutely. Do I still think about that child? For sure. Did I conquer my fear? … almost.
I, however, will not forget the ground we covered as we rode for almost 7 miles in just under an hour. We watched the sunset, took pictures and generally didn't have a care in the world.
Segway
As I said, the first time I rode around on a Segway was in Gulf Shores State Park. There was no question I was doing something that scared you. Being on a Segway is not easy. It's not super hard, but you need to have a good sense of balance and a little bit of courage.
If you manage to understand that your body weight is what propels this machine forward, you're half-way there. You have to learn to avoid leaning too far forward or to far back because you will either accelerate too quickly or fall off. And the Segway WILL keep going – all by itself.
We took a tour of New Orlean's French Quarter in a Segway with City Segway Tours located on Decatur Street. Suited up with a helmet, instructions and a fairly laid-back guide – off we went.
Touring the very narrow streets, we were dodging cars, delivery trucks and pedestrians along the way. We rode on big streets with cars zooming by and we managed to avoid many potholes and uneven streets. As we rode, I often questioned how a person with a wheelchair would manoeuver these uneven surfaces. It was tough enough to walk on them, but using a Segway was challenging.
By habit, I was looking over my shoulders to ensure my friends were keeping up and keeping vertical. I was also concerned with the two ladies who were riding side-by-side, chatting and not paying attention to how close their wheels were coming to each other. I had to speed ahead because I couldn't watch the imminent disaster any longer.
At times we rode very slowly and cautiously, but there were times when my confidence got the better of me and I zoomed by quickly with the wind in my hair and the fear in my heart. It is a thrill riding on a Segway. I highly recommend it. It would be so nice if you could just ride around without a guide but alas, you cannot.
Dancing
The sign says: "I only drink to make you more interesting". Unsurprisingly, a complete stranger (who had clearly had a few pints) had an immediate need to dance with me.
"What is happening right now?" Paula asked, "I was dancing with a perfect stranger, and so will you… off you go missy…"
Standing in a swamp bar (yes, the guide called it that). We found ourselves on a boat tour with Louisiana Tours and Adventures in a pontoon boat cruising the bayou and I really needed to have a drink.
Before any of this happened, I had this conversation: "Are we really going to go in?" I asked. My girlfriend Paula was all over it, our other two blogger friends showed some trepidation. "When will the next time be that we get to go to a swamp bar in Louisiana, for goodness sakes?" She chided me, "Of course, we're going."
Drinking in a rowdy bar is not necessarily something I would pass up, Afterall, I've been to the infamous Flora-Bama. But dancing with a random stranger, to country music was not my forte, it wasn't even in my wheelhouse.
This is us. Egging each other on. This is why we travel. Every trip provides a challenge. Do something that scares you, right?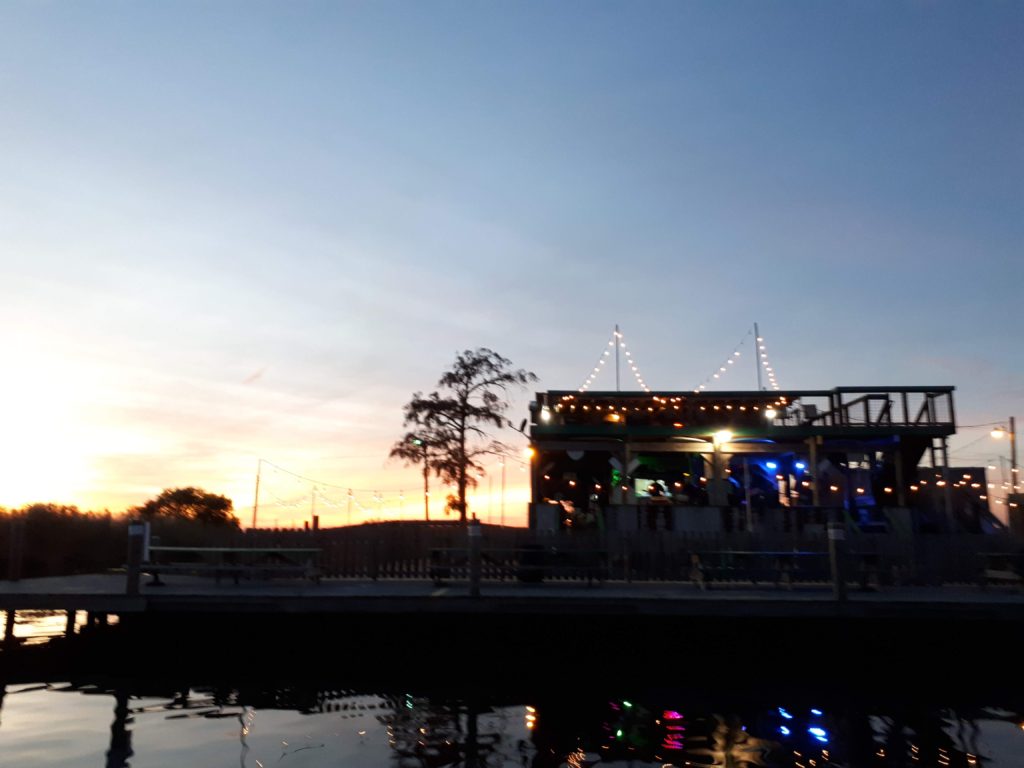 ---
Disclosure: I'd like to thank the Gulf Shores and Orange Beach, New Orleans and Louisiana North Shore tourism for these press trip experience. All experiences were complimentary but all opinions are my own. I did not receive any additional compensation. #Ad #GiftedExperiences
Ultimate Guides to Food, Attractions and Accommodations in the Gulf Shores, Orange Beach & Fort Morgan @VisitALbeaches
Margarita Ibbott is a travel and lifestyle blogger. She blogs about travel in Canada, the United States and Europe giving practical advice through restaurant, hotel and attraction reviews. She writes for DownshiftingPRO.com and other online media outlets.